Panda Restaurant Group Announced as 2019 Winner Communitas Award for Leadership in Community and Corporate Social Responsibility
DATE:
The Communitas Awards is an international effort to recognize exceptional businesses,organizations and individuals that are unselfishly giving of themselves and their resources, and those that are changing how they do business to benefit their communities. Nominees are evaluated on the extent and effectiveness of their efforts.
We at CMN proudly nominated Panda for this honor for their continued support to CMH Hospitals and all sick and injured children.
The judges found that Panda clearly exhibits the spirit of communitas, a Latin word that means people coming together for the good of a community.
Peggy Cherng, Panda Express Founder, "Supporting the health and education of under-served children is of utmost importance to our Panda family."
Andrew Cherng, Panda Express Founder, "Giving and getting back and having a generous heart actually work better in life. Our passion for giving means that we contribute to the communities in which our restaurants operate in any way we can. "
In 2018, Panda Express once again had a record-breaking year, raising more than $21M for CMN Hospitals. Panda Express' success is nothing but outstanding. Panda Express has all the hope for the future to become a leader in the CSR space. For 2018, Panda Express increased their donation by over 30 percent or a total of $6M. Panda Express is currently outpacing every other national CMN Hospitals partners in dollar growth.
Panda Express is a perfect example of a leader in the corporate social responsibility field. We are lucky to be a partner of Panda Express.
The overall program strategy for Panda Express is simple, ask every customer every time for their change and to round up to the next dollar. That change adds up and at Panda Express it adds up to millions of dollars every year for CMN Hospitals.
Panda Cares' vision is to empower youth to learn, lead and thrive for better lives. The mission of Panda Cares is to bring hope to youth in need. Our purpose is to serve the Health and Education needs of under-served youth and to foster the spirit of giving.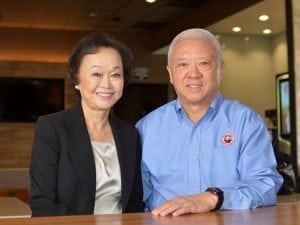 Panda's History of Giving:
2018- $21.4M,
2017- $15.3M,
2016- $10.6M,
2015- $4.9M,
2014- $1.5M